about the

religion of peace

religion of hate and intolerance.

– Elphaba
I posted recently about Geert Wilders, the Dutch politician who sees Islam for what it really is (although, IMO, you have to be deaf, dumb and blind not to see through the liberal propaganda).  Mr. Wilders produced a short film called Fitna (you can watch it here), that puts no words in the mouth of Islam; rather, it puts forth words  exactly as they are written in the Koran, and the documented words and actions  of Imams and Muslims themselves.  If you haven't seen it, you really should take the time to do so, and share it around. *Warning: the images shown are graphic and violent; hey are also very, very real.
Mr. Wilders is being prosecuted by his own government for "hate speech" against Islam.  This travesty of democracy and free speech can be followed at Geert Wilders' website.  More importantly, you can contribute money to his defense.  We cannot afford to ignore his plight, because we are all vulnerable to this threat.
It's a serious matter; even their pets are indoctrinated: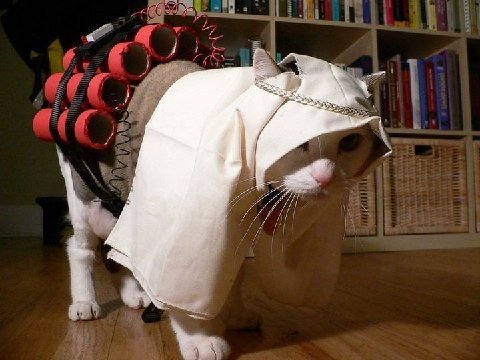 Okay, okay, so that last photo's a joke, but trust me; this is no laughing matter.  The goal of Islam is world domination, and it is time to say no to political correctness and time to do everything that we can to preserve freedom.
Fuck political correctness.
Tags: asshattery, Fitna, Geert Wilders, Islam, jihad, political correctness, religion of peace